On this map you can see the different areas of  Svenshögen. We call the whole area Hällungebygden. You can also find Solhälla on the map. Hällskogen is the forest that friends in the village have bought in order to restore . Hällmarkens förening is caretaking and developing the extraordinary beautiful landscape by the eastern beach called Hällmarken. Jordhälla is a residential area where many friends live close to each other. Many of them run their own businesses. Here you can find links to the organisations and to friends with their own businesses in the village or close by.
Click on the map to make it bigger.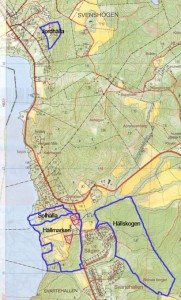 Hällskogen
Akasha planterar träd i Afrika
Ekologiskt byggande och Hållbart boende
Eva Sanner kurser, terapi och böcker
Here are links to some of the teachers that work at Solhälla:
We at Solhälla also want to recommend these places and experiences:
Ängsbacka  in Värmland
Mundekulla in Småland
Flowering in Stockholm
Space of Love Festival at Öland
Yoga Treats in Göteborg
Fridhems kursgård in Stjärnsund, Dalarna
Here is a link to WWOOF in Sweden – World Wide Opportunities on Organic Farms:
Here is a link to the Magazine Free which you can read on the net (in Swedish).