You are very welcome to stay at Solhälla's Bed and Breakfast!
We offer accommodation for 400 kr/night and person in double room including breakfast. 350 kr without breakfast. You can borrow sheets for 60kr extra.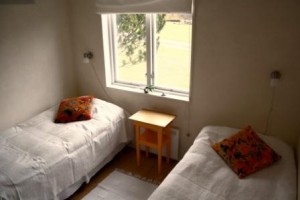 An additional mattress for children can be arranged for 100kr. Children in parents' bed cost no additional charge.
All rooms are non-smoking and pet-free.
There are showers and toilets in the corridor outside the rooms. One of the toilets is accessible and we also have a ramp to the dining room if needed.
A kitchenette in the corridor is available for anyone wishing to make a simple meal or a cup of tea.
WIFI connection is available in the main house.
Check-in time is from 12 P.M., but as our reception is not always manned it is recommended to advise estimated arrival time when booking.
Check-out time is at 11 A.M.
Breakfast is organic and most of the vegetables come directly from our garden including the eggs laid by our hens. Please let us known in advance if gluten-free or lactose-free diet is required. You are welcome to explore our beautiful gardens during your visit or go for a stroll in the labyrinth that is said to give you an answer to the question with which you enter it.
Some days lunch is served for 75kr and also café, with both regular cakes and raw food cakes, is open. Please check at the booking whether these are applicable when you come.
Solhälla is beautifully situated next to the Lake Hällungen and you can dive from our own jetty or borrow a canoe for a trip when you are here. You can also take a nice walk in the surrounding nature and visit the small sandy beach a few hundred meters away.
Solhälla is a good place for those who wish to rest and relax but also for those who want to be more social and participate in our courses, café events and concerts.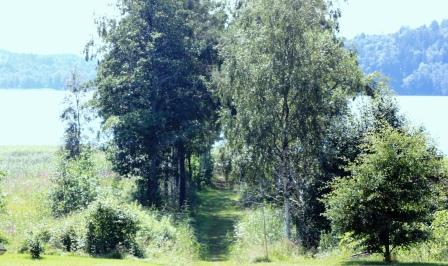 You can read more about these in the Calendar here on our web-page.
Check out for more activities in the village under "Friends in Hällungebygden". An organic shop "Hållbar Hälsa" that sells self-grown vegetables and other organic goods is located right next to Solhälla. Take the opportunity to visit it during your stay at Solhälla.
Call and book your stay via tel. 0303-775403. You can certainly reach us on weekdays from 10.00 to 12.00 via telephone, although we answer most of the calls out of these times as well. You can also book via e-mail: info@solhalla.com
You are very welcome to Solhälla!